Ciao, bella!
The other day, I received this comment on one of my posts:
"I would like to ask something: what if I can't live like the S&C Manifesto says, just because there are some, let's say bad people, who make me feel a loser. Please give me an answer."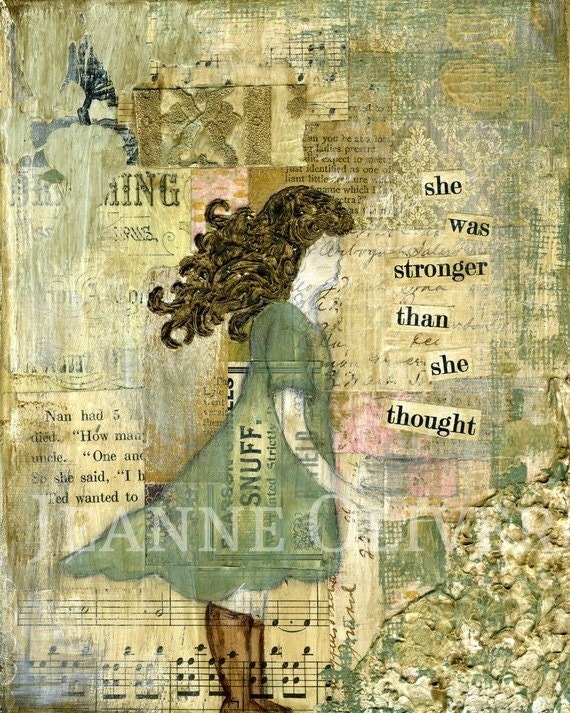 ~
Oh gosh, my darling. I have
been there
. I spent two years of my life surrounded by people who tried to make me feel as small and as sad as they could. But I never let it crush my Sparkles & Crumbs spirit, and I have written about all that I've learned from the experience here
before
. But I've never yet been asked for actual, practical advice on how to
handle
being put down and cold shouldered, day in, day out, and keep your heroic heart intact.
So here it is, sweetheart reader:
The Sparkles & Crumbs Guide to Enduring Adversity!
#1: Surround yourself with Sparkles & Crumbs.
If you can get away from these unpleasant people, do it. Why would you fill your days with bad vibes if you can possibly help it? It so doesn't suit your sparkling lifestyle, darling, so find the strength to kick 'em to the curb.
Contemptuous co-workers? Quietly commence the search for a position in a rocking new workplace. Finicky friends? Say "
Sayonora!
" and find yourself a fabulous new crew!
But sometimes [as for me - I had a scholarship to a sixth form college that eventually got me into my dream university!], you can't remove yourself from your dispiriting situation - you just have to stick it out and suck it up. What then?

#2: Immerse yourself in the imaginings of your greatest heroes and heroines.
"Always learn poems by heart. They have to become the marrow in your bones. Like fluoride in the water, they'll make your soul impervious to the world's decay."
-Janet Fitch


I adore this quote - and it rings true not only for poetry, but for books, movies, music... anything another human being has created. These worlds and words can offer both escapism and reassurance, sometimes simultaneously.


I found solace in Rob Ryan's "
This Is For You
" and Rilke's "Letters To A Young Poet" [free to read online
here
] - which I would recommend to
all
of you, sweet readers! - and fiction gave me wings to fly to a better place full of better people.
I watched Greg Peck tour-guide Audrey Hepburn around Rome in Roman Holiday, and Gene Kelly dance down 'old Broadway' in Singin' In The Rain, with sparkling eyes, feeling drawn into a different time when the world was bright, beautiful and full of delight.



I listened to fight songs that gave me strength and courage - here are some of my absolute favorites to sing along to:
"And hard times come, and hard times go
And hard times come, and hard times go
Yeah, just to come again,
Bring on your wrecking ball
Bring on your wrecking ball
Come on and take your best shot, let me see what you got
Bring on your wrecking ball..."
-"Wrecking Ball, Bruce Springsteen"
"I'm surrounded by liars everywhere I turn
I'm surrounded by imposters everywhere I turn
I'm surrounded by identity crisis everywhere I turn
Am I the only one who noticed?
I can be the only one who's learned
I don't want to be anything other than what I've been trying to be lately
All I have to do is think of me and I have peace of mind
I'm tired of looking 'round rooms wondering what I've got to do
Or who I'm supposed to be
I don't want to be anything other than me..."

-"I Don't Want To Be," Gavin DeGraw




"Hold on, hold out, keep a hold on strong
The money's in and the bets are down
You won't hold out long
They say you'll fall in no time at all
But you know they're wrong..."
-"Hold On, Hold Out," by Jackson Browne



"What doesn't kill you makes you stronger
Stand a little taller
Doesn't mean I'm lonely when I'm alone..."
-"What Doesn't Kill You," by Kelly Clarkson
"I just know your life's gonna change,
Maybe not today, maybe not today,
Some day soon you'll be all right
I just know your life's gonna change
Don't turn the other way, turn the other way
Feels like luck is on your side..."
-"No Worries," by Simon Webbe

"I have often dreamed of a far off place
Where a hero's welcome would be waiting for me
Where the crowds will cheer when they see my face
And a voice keeps saying, this is where I'm meant to be

I'll be there someday, I can go the distance
I will find my way if I can be strong
I know every mile will be worth my while
When I go the distance, I'll be right where I belong..."

"I Can Go The Distance," from Hercules
"The best music is essentially there to provide you with something to face the world with."
It doesn't matter if you fall in love with nineteenth century novels or indie films or punk rock. All this art, whatever form it takes, can "make your soul impervious to the world's decay," and the sticks-and-stones of lesser spirits.




#3. Seek out some real-time kindred spirits!
I couldn't have got through my time at the Gaol without my beloved camerado. Our lunch time escap[ad]es, note-passing and giggles got me through at a time when I felt more like lamenting than laughing. Just one friend who makes you feel fabulous can make up for a whole bunch of boorish people trying to bring you down. It helps you keep your sense of fun!
Sometimes, there's a real shortage of soul sisters in your immediate vicinity. The usual advice is to throw yourself out there: take an Italian course at night school! Attend a pole-dancing class! Start attending your local church/synagogue/mosque and explore your heritage! Moonlight in a part-time job mixing cocktails at a swanky bar on the weekends! The idea is that not only will your spirit swell with all of the new passions you are pursuing, you will be
even more
interesting and alluring to converse with than before [who wouldn't want to chat to a girl who poses as a life model on Thursday evenings, and is producing a short feature on FGM for a film-making class...? You get the idea!],
and
connect with characters who share your love of cricket/crochet/cabaret. What could make you feel more like a winner?
If all else fails, reach out on the Wonderful World Wide Web. I'll never forget the jolt of instant recognition I felt when I stumbled upon
one of the first blogs
I followed religiously. Someone in New York City was putting into words exactly what I was thinking, feeling, daydreaming... and replied to my messages with warm, witty wisdom. Through Sparkles & Crumbs, I've been sent cupcake kaleidoscopes from a
wonder woman in Wisconsin
, and bumped into a red-haired Italiophile reader who recognized me at Vauxhall station! It sounds silly, but sometimes it feels like I've found an extended family to share ideas, stories and sentiments with. So join a forum, whether it's Mumsnet or Leonie's
Goddess Circle
!
[I've even been thinking of setting up our very own Sparkles & Crumbs Circle, dear friend - thoughts?]


#4. Embrace your inner world!
Alas, at times, despite one's best efforts, we must weather the storm alone. That's where the
wellspring of fabulousness within
comes in handy!
I started writing Sparkles & Crumbs in the very midst of the worst times. Building something up at a time when others are trying to tear you down can feel incredibly healing - so whether it's making cakes for weekend bake sales, or scrapbooking fashion magazines,
create something good and magical
.

#5. Stick to your guns, sweetheart.
This is the most important advice I can give you, I think, my dear, dear friend.
You are
not a loser
.
You are a Sparkler, a Roman Candle shooting out stars and comets, a Rocket leaving the others behind in your glittering trail up into the sky. And don't you ever let them believe otherwise!
Stay true to the Sparkles & Crumbs spirit despite the snide and the small-minded, sweet, and I promise you, soon you will find the place and the people that makes you feel like the star you are.
I'm saying a little prayer to Greg Peck that this any help to you at all, sweet thing. But here's my promise: Sparkles & Crumbs will
always
be here for all those wondering, wandering souls who need to top up their cock-eyed optimism and make-believe!
"I have been bent and broken, but - I hope - into a better shape."
-Charles Dickens
Love, raspberry vodka and pistachio body butter xxxx