Oh, darlings - have I got something exciting to share with you all!
"Books are medicine, books are life affirming, books are escape, books are opportunities and wisdom and encouragement, books change our worlds. Books make things better. So which books have you flung yourselves into?"
Books, books, books. Stories and ideas.

The other day, The Boy mentioned to me - as I was enthusiastically discussing His Dark Materials with a friend - that he doesn't "really like books."

How incomprehensible to me!
It made me realise:-- Books have been part of who I am since I could pick one up by myself. My imagination was filled with rivers of chocolate from Charlie and The Chocolate Factory, lions from the land of Narnia and Phillip Pullman's armoured bears from the Frozen North, the Hogwarts Express.
As I grew a little older, I discovered characters who captured my own feelings in words that could have been my own, if I were more eloquent - like Cassandra in I Capture The Castle. And I read non-fiction, too - angry books that opened my eyes to far-off atrocities, or issues I didn't even realise were affecting me.
At the Gaol, unhappy and wretched, storytelling was the Camerado and I's lifeline. We would lose ourselves in our own tales, spun out of our desperate daydreams of escape, and in the imaginations of others. I will never forget the feeling of being understood, and the longing to follow Eustace right out of this world too, when I read in The Silver Chair:
"'Look here, Pole, you and I hate this place about as much as anybody can hate anything, don't we? ...Then I really think I can trust you... Could you believe me if I said I'd been right out of the world - outside this world... supposing I told you I'd been in a place where animals can talk and where there are enchantments and dragons - and - well, all the sorts of things you have in fairy-tales.'
'How did you get there?' said Jill.
'The only way you can - by Magic.'"
Through the hard times, books made me feel less alone and gave me something to hope for and lose myself in.
Through the
fabulous
times, they have entertained and enlightened me, and I return to my favourites over and over again, like comforting old friends, always ready to open their arms and receive me again.
Now, I know that
you
, dearest readers, share my love for books. So many of you have told me in your comments how you "devour books like air," [or, perhaps more fittingly, a delicious chocolate cake!] too -- have recommended your favourites -- that wonderful impulse of a voracious reader, to share the wonderful stories we find with like-minded souls.
So here is my exciting new idea, sweet things:
The Spectacular Sparkles & Crumbs Book Club!
So, here's the idea:-
At the end of the month, we - the mellifluous members! - pick two books to read together. One fiction, one non-fiction. Over the next month, we wade our way through the depths of one or the other [or both!], and leave our thoughts, impressions and ponderings in comments anywhere on Sparkles & Crumbs. [If it really kicks off, perhaps we could have our own forum! It's all up to your enthusiasm!] At the end of the month, I'll gather all our musings together as food for thought, and let you know our next two choices of the month!
How to pick our reading material?
This time [it's a little early for the end of the month, I know - but I was just too excited by the idea to wait! See it as a head start!], I've put forward my two choices for works of absolute art that you simply
must
read!
But over the month, those partaking in our literary pursuits can leave their suggestions for next month's must-reads - again, in a comment on any post here on Sparkles & Crumbs. And we shall try and get through them all!
As excited as I am?!
Then let me know here if you're raring to take part, and let the first 'meeting' of the Spectacular Sparkles & Crumbs Book Club commence!
So, without further ado - this month's treasures!:-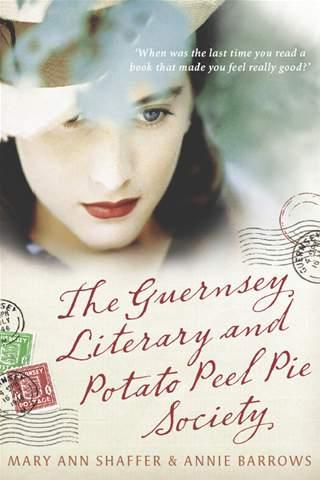 'The Guernsey Literary and Potato Peel Pie Society,' by Mary Ann Shaffer & Annie Barrows.
Don't be deceived by the odd title - this blew me away. It
shellshocked
me with how spectacular it was! The unique mixture of deep, deep tragedy, of love in the face of heartbreaking loss, of betrayal, with some of the most deliciously light-hearted comic scenes, is like nothing I have ever read. I
promise
, you'll fall in love with it too!
Non-Fiction:
'The Beauty Myth' by Naomi Wolf

I am halfway through this at the moment - so it's new to me, too! - and I am not quite sure what to make of it! Half of it hits me in the solar plexus with its troubling accuracy, the other half reads a little like wild conspiracy theory. I'd be fascinated - and most likely enlightened! - by what my Sparkles & Crumbs signorinas think!
And in case you need any more inspiration to get reading, I
adore
this
:-
"Reading has always been life unwrapped to me, a way of understanding the world and understanding myself through both the unknown and the everyday. If being a parent consists often of passing along chunks of ourselves to unwitting -- often unwilling -- recipients, then books are, for me, one of the simplest and most sure-fire ways of doing that. I would be most content if my children grew up to be the kind of people who think decorating consists mostly of building enough bookshelves. That would give them an infinite number of worlds in which to wander, and an entry to the real world, too; in the same way two strangers can settle down for a companionable gab over baseball seasons past and present, so it is often possible to connect with someone over a passion for books."
Love, lost pages and libraries xxx